For a friend.
Domain – Hosting Services
You need a hosting service where to store the virtual content of the future website at.
In my case it is www.loswebos.de in Germany and I am very happy with them, since I started in 2003, now having some 20 domains with them and on their servers. You may want to look for someone in your country.
I recommend not to go with the big players as their customer service is …, mine is always available to answer to problems and requests personally. I never regretted it, I never compared again. Also I would not buy pre-built systems of webdesign but always prefer the world wide choice of WordPress.
Your Domain – and Social Media, your 'Handle'
With my provider or any other provider you can check for names/domains still being available.
What I also do at the same time when creating my new websites (= the product/service) name is search on social media: is the name still available everywhere? If not rethink, use another name. Spelt exactly the same in best case (I avoid hyphons), so no hyphons or whatever may differ. At Instagram or Twitter I found names taken but only with 1 ages-old post, which is annoying but bad luck, no way to get it for you mostly. So think on and about a different name.
Hint: Like for two of my domains I did not think perfectly, the name is too long for the Twitter handle! Eg my website and Instagram is @happyhomehamburg, but my Twitter is @happyhomehh (hh makes well sense to all Hamburger's, it is your cities car license code). @travelsandevents had to be @travels_events. Well.
Think about if you want to reserve different "endings" too (.com, .de, .eu), which may be saving you from others offering a  – similar or different  – service under the same name, and it helps when clients put in the wrong ending (you can internally redirect that, that's easy too do). I have several domains I reserved as .com and .de (Deutschland/Germany), in the beginning I took them all ;). By now I really think about it, cost-wise (not much, but accumulates over years), and often just take one domain.
For my latest project the name I wanted in the first instance was taken by someone. Sometimes you encounter it being for sale, I never contact those people, they want to make money only, more money than for an unreserved domain ever. I ended up just buying a different – not so common – domain ending, as it perfectly fits: .org, it is about ORGanising (while .org stands for organisation rather). Two weeks later I decided for a better name and bought the actual domain. As long as I am not in business that does not matter, I pay for a year, like under 15€, and can cancel them.
As I only plan on selling my service in Germany, and the website will be in German, www.happyhomehamburg.de is very fine with me.
Usernames, Access Codes etc
From your hoster/provider you received all the necessary codes to access your webspace.
Prepare your archive system
On my computer I prepare the folders I will want to start with. All that in a special document sub-folder under "websites" that I give the name of the new project: "gutorganisiert"
This is how my setup of new/empty folders on my computer looks like, to begin with: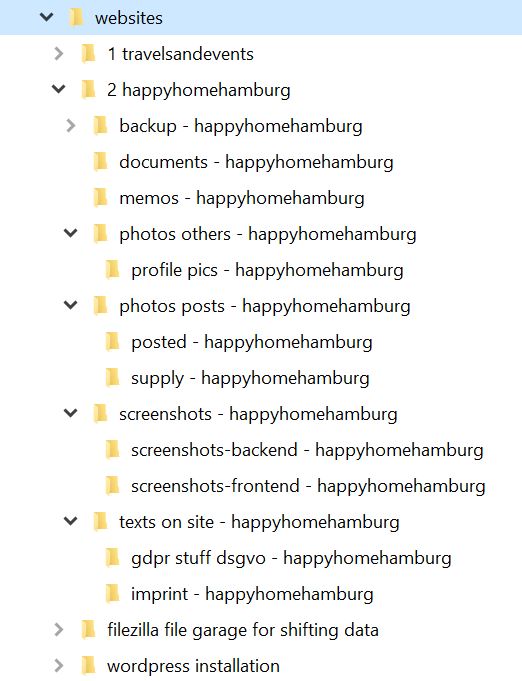 WordPress Software
Google "wordpress" or "wordpress download" and make sure what you open is in your language and country possibly (I just got to a de-ch page, Swiss, and re-did my search to download the German version).
Download and unzip.
Firezilla
You need an FTP (File Transfer Protocol google it) software. Filezilla is good and free. Download that on your computer.
You will not need to use it often, but for the setup, and maybe once in a while for other programing, uploading empty folder or content.
First I create a folder there where the WordPress installation and all further content will go into. Name exactly like the domain.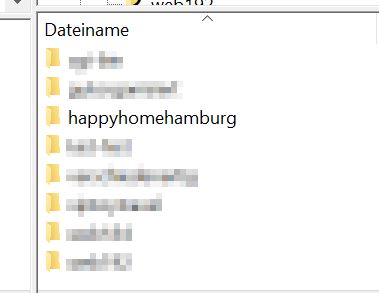 Provider and Hosting  Website Setup
Now this will look different for you probably and is the backend of my hoster/webspace provider LosWebos. They have been helpful for the past 15 years when I as an amateur had "stupid" questions (and throughout mistakes I made that crashed my websites).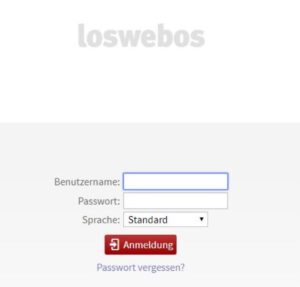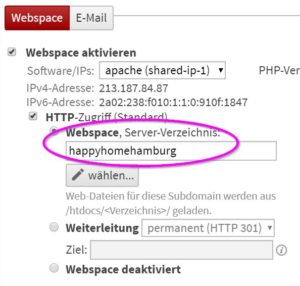 I log in and go open the "domain" setting, and connect to the folder I have just created with Filezilla. Then the website is ready to receive the WordPress software data at the right location.
Email address
While I am at it (working in the provider backend), I may as well create email addresses to go with the new website. As for me normally the domain registration confirmation comes a day later than my new idea, I already by then have reserved the Instagram and Twitter accounts with a different email address, that I can then exchange once I have the domain. 1
I create the email address and fill in the relevant fields below. Important, if you want to create a new mailbox (separate account files on smartphone and computer) or just reroute to another email address, in which case the outgoing mails will be received as from your other address (which I do not want). I also create alias accounts, eg for social media registration.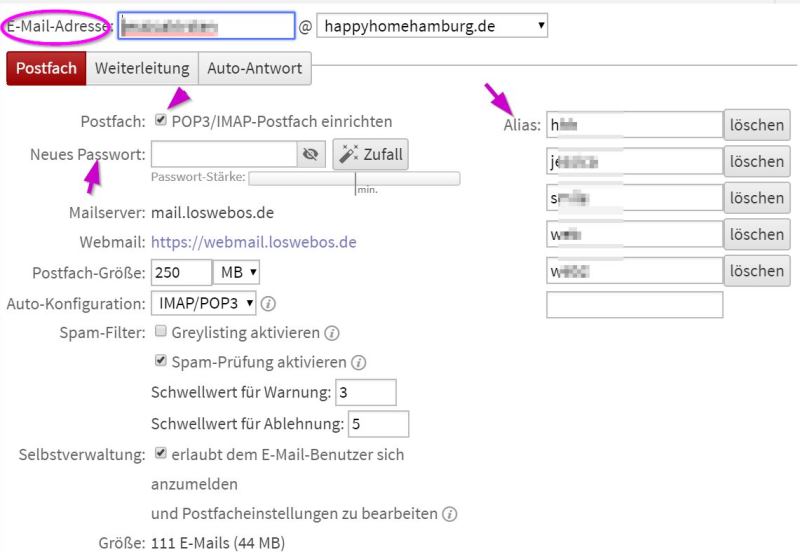 Upload WordPress to Web
I open Filezilla and register with the access codes I have received – and save that as my profile. So in the future I do a one-click login only always. Please ask Google or YouTube how to do handle Filezilla, or use their help on the same tool online.
On the left side which represents all my computer files, I search and open the WordPress installation folder.
On the right side which is what is on the hosters server and where I want to install WordPress,  also choose the folder where the WP installation files should go to (the folder I have previously created and linked in the hosters backend.
Then I mark-all on the left side and simply drag and drop it over to the right side. It takes a while, on the bottom you can see the process. Don´t worry if you pick wrong files or folders, you can always delete (right mouse click on windows, no idea on apple).
Then patiently wait, as there is work in process.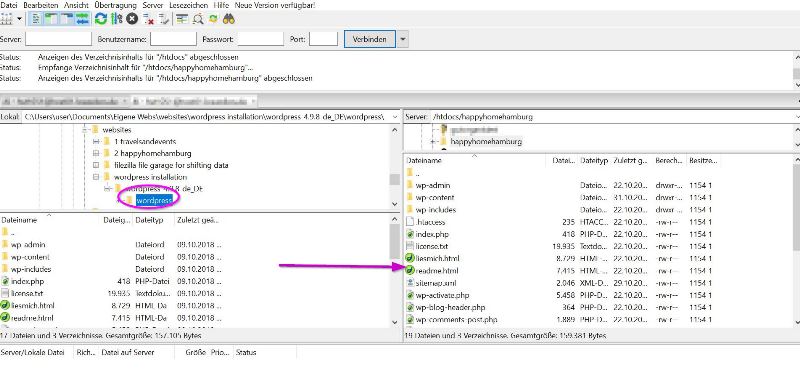 Provider/Hoster Interface
Your provider may give you different ones. I have 3 (4), for general access, for accessing my webmail (hardly do so, just for special settings) and database (I wish I never have to use it, no clue), plus my client data account. I think that is rather universal than provider-specific, so you might find the same software.

Database
You need to get back to the provider's software online and go to 'database'. You got to create one and a name for it. That then will have to be written into the 'config' file I mentioned before, you have to adjust. First part oft he name is given by contract, secondpart by me, and it is a short name-code (2-4 letters) that reminds me oft which project/website it is. E.g.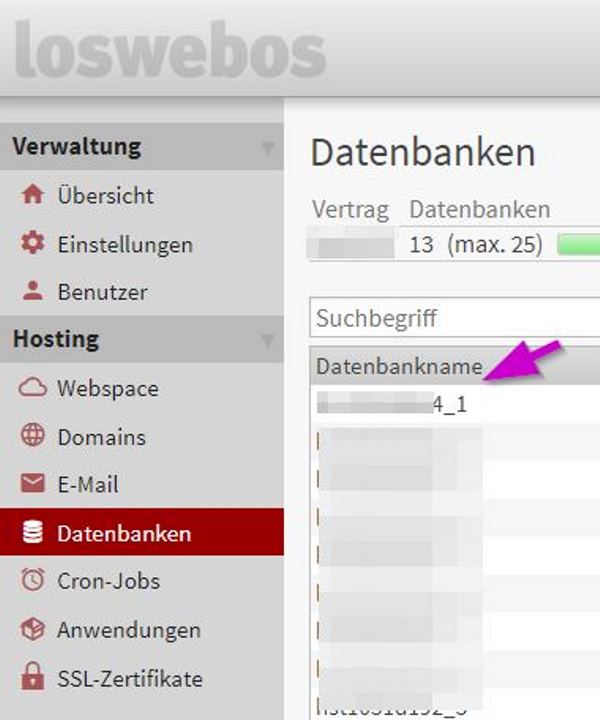 Configuration
You now (or previously did that already, that doesn't matter which way round – but I use the time of the upload to work on it) need to work on the configuration.
There is a "neutral" file called wp-config-sample.php which needs to be changed slightly, filled with data. That change is delicate, so a) have a backup oft hat file and b) be very careful, as a simple dot can destroy your website and make it crash (I had loads of those… not the end oft he world but it can be very very time consuming to find and repair your mistake!)
Editor Program
For editing codes the clearer the program is the better. I use 'Editor' that comes with the computer (windows). First I change the name oft he file online (right side of Filezilla) from
wp-config-sample.php to wp-config.php by right clicking (different for apple). Remember you have the original on your computer, if something fails! (If you want to be on the safer side, do the following on the computer file and then upload, then delete the 'sample" file. It is still  in the zip download, in case anything fails.
Okay, now comes a bit of a trick not everyone can do. I do not proceed here, as Editor shows me a format that is not nice to work in. But if you do not have (bought) another program, and also you hardly ever need one again, you have to play with it:

Or, better visualized with my different web program (Dreamweaver, 2004, yes, very old but still comes in handy sometimes)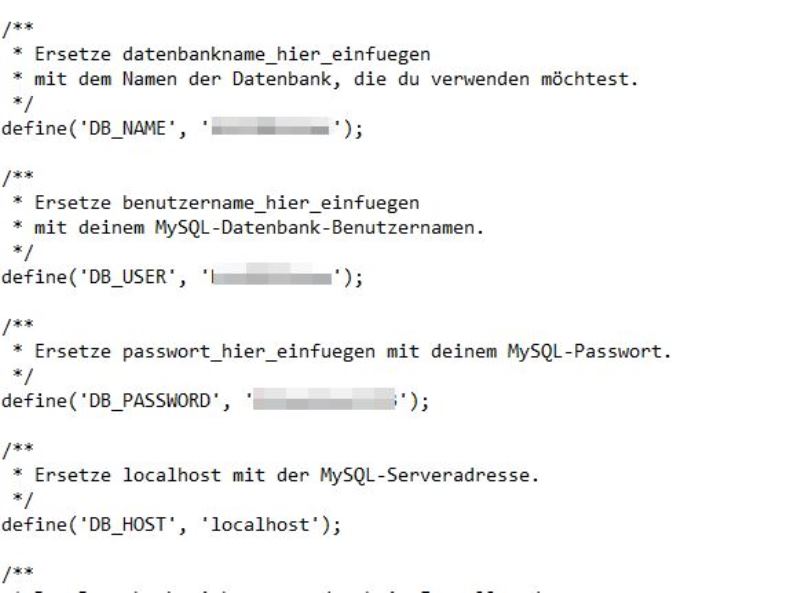 Insert
database name
user name
data base password
Upload File
Excitement
Open your website in your browser, type it in!
There it is!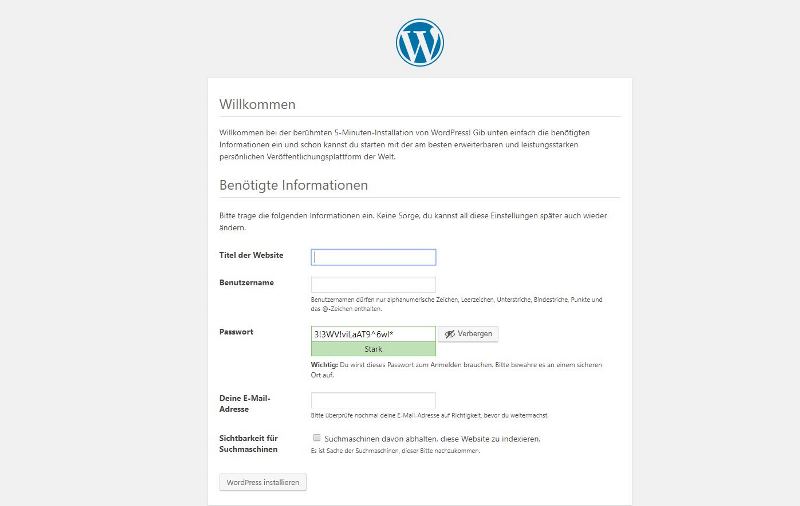 Now CAREFUL! There is one thing you can never change afterwards: User Name!
Also, this page only pops up once now.
Choose the name thoughtfully. It is the name/word with which you will do your login every time you want to work on your website/add content. So dont make it too complicated. I wouldn't call it "admin" of course, but something simple. And a name which does not lead back to your clear name.
You later can choose if that name shall be seen as author under your posts, of if you like to show an alias for it (e.g. your real name, and of course you can add more users and names to work on the website).
Everything else can be changed again, title of website, password, email address (I take the alias of the address I just created that I made for web/social media purpose).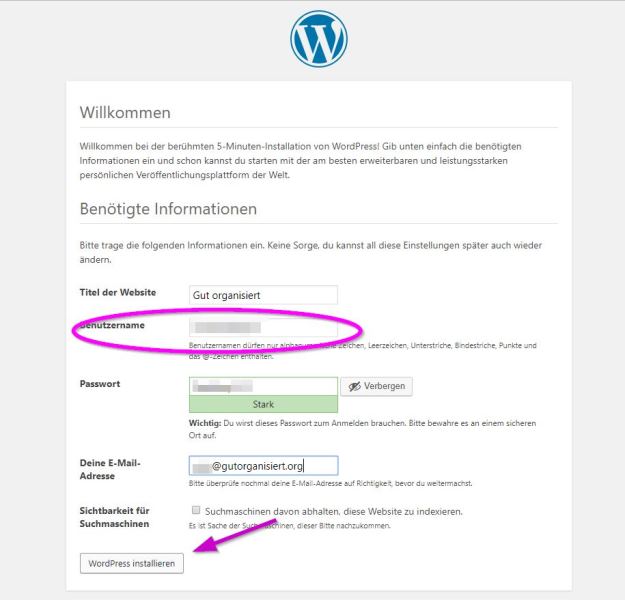 Once you are done, click "install"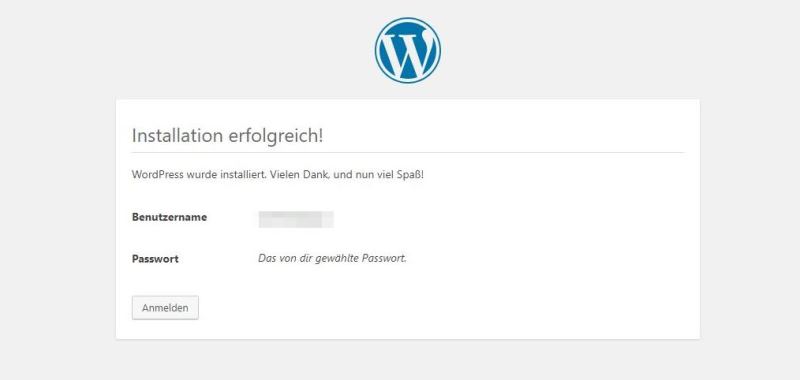 Hooray! Your website is officially online
Now hit "sign in" (here "anmelden")
This is what you will see from now on when you want to work on your website: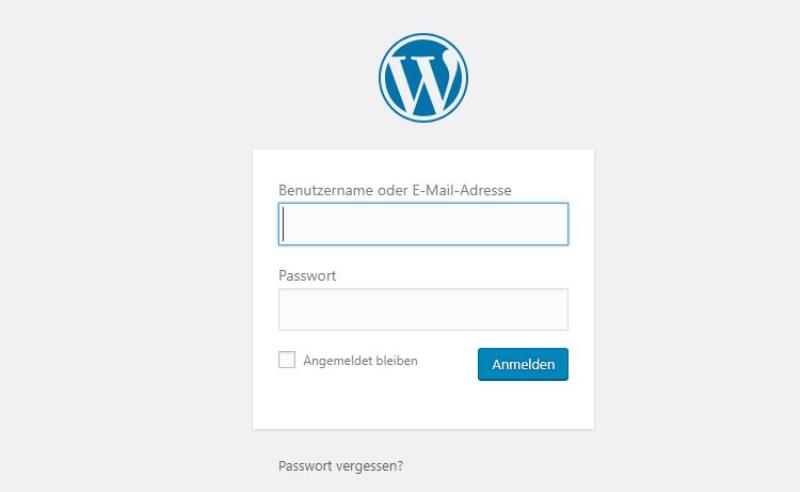 Asking for user name and password.
Save the link: http://www.yourdomain.com/wp-login.php to get to this window
AND have a first look at your website under www.yourdomain.com now!!!
WordPress standard "theme" and content to show up.
Be proud what you have done now and your own project.
Enjoy working with WordPress
Part II to come, first steps of setting up your website, layout/design with WordPress
i think @hotmail.com, @gmail.com, @t-online.de may look unprofessional when communicating for business. And I don't get it when people have a domain and don't use it for a matching email address (you can always re-route to your other account hiddenly, if that's easier for you to work with. Though I highly prefer to separate my account's inboxes. BUT: I have a happyhomehamburg with Gmail address that is the public email contact on my legally mandatory in Germany imprint on the website, like that the possible spam stays of my server space. ↩